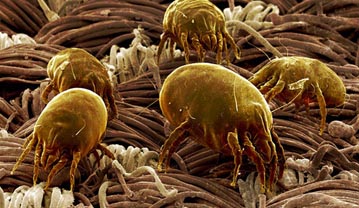 High-Quality
De-infestation Treatment
Most people welcome visitors to their homes or workplaces, but there are some visitors we'd all rather not entertain. Bugs and pests don't really care if they're invited or not, as they'll happily set up camp in your carpet and rugs, as well as upholstery furnishings and other items. At Carpet Cleaning London, it's our job to send unwanted pests packing, with our highly effective, safe and reliable de-infestation treatment services.
 It's not always easy knowing if your property is playing host to unwanted bugs, but it's a common occurrence, especially if you own pets. You might see the pests moving around, or notice the larvae and eggs, but sometimes bald patches in your carpet could be a sign that they've taken up residence.
Most frequently, home-dwelling insects make their presence known by affecting the health of humans. Dust mites, in particular, can trigger allergy symptoms such as asthma or hayfever, but fleas and other mites may also cause itchy skin and rashes through their bites.
 At Carpet Cleaning London, we provide high-quality de-infestation treatments that make you and your environment a much healthier and more hygienic place to be. We use powerful industrial strength cleaning solutions that stop infestations in their tracks and remove them from your home or workplace. Not only does this leave your carpets and upholstery items looking clean, but you can relax safe in the knowledge that they will be pest-free.
The products we use to remove insect infestations are tough and dependable, but if you're concerned about any after-effects, there's no need to worry. Our cleaning solutions are kind to fabrics and furnishings, without leaving any toxic residues. Carpets and upholstery can be safely used again by humans and pets after we've finished working on them.
Whether you need de-infestation treatment services for a single room or a much larger space, you can trust us at Carpet Cleaning London to deliver a reassuring pest-free environment. We're especially popular with landlords who require de-infestation treatment services at the end of a tenancy agreement, or those who have public spaces frequently accessed by pets.
If you've never used our services before, you might not know what's involved as part of the de-infestation treatment process. Get in touch with our friendly and helpful team at Carpet Cleaning London, and we'll be more than happy to inform you of everything you need to know about our affordable, reliable and quality services.